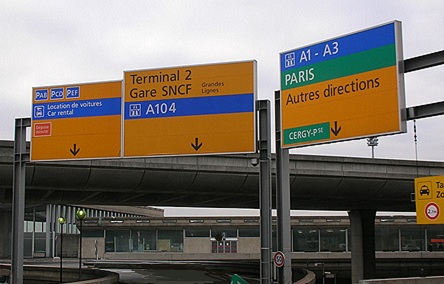 The questions and answers as to how to get to the Loire Valley from CDG have featured in many travel forums, with a number of options/proposals, here is our take on it...
If you have decided against using the train to get you away from the Paris area and nearer your Loire Valley destination then the car is the next best option. It can be relatively straight forward - you pick up your hire-car at the airport and follow the signs for the 'autoroutes' - A1/A3.
We would recommend the following options based on getting to Tours
1) Quicker but less scenic and tolls apply.
2) Longer but toll free and more scenic:
You can of course change your destination to your desired location rather than Tours.
1) CDG airport to the Loire Valley avoiding Paris and the 'Peripherique' https://maps.google.com/maps?
2) So as not to show any bias here is the toll free route displayed on 'Mappy' https://en.mappy.com/itinerary This way, depending on when you arrive, you could take in a visit to Chartres on your trip into the Loire Valley.
Compare journeys to Tours:
| | | | | |
| --- | --- | --- | --- | --- |
| | Time | Distance | Fuel € | Tolls € |
| 1 | 2h 45min | 270km | 30.74 | 20.80 |
| 2 | 3h 50min | 265km | 28.90 | - |
If you have your own favoured route planner and are searching for directions use 'Aeroport Charles de Gaulle 1, 93290, Ile-de-France, as the description of your starting or finishing point. Some route planners will send you around the Paris 'Peipherique' ring road and all going well you could save yourself some time. We do not however recommend this route as, if there are any problems on this busy road it can add hours to your trip and get your holiday of to a a frustrating and relationship testing start!!. It is also not a first time experience you want to have after a long -haul flight arriving in a strange country with different driving conditions. This is not to say that the A86 will be trouble free but it should be easier.
Obviously the choice is yours and will be dependent on your experience and spirit of adventure - bonne chance !