If you intend to start off your holiday with a stay Paris you have a choice of trains to get you out of the city to the Loire Valley. The TGV trains leave from Montpanasse station (gare) and standard trains from Austerlitz station.

Here is some information on trains to the Loire Valley from......... Click on picture or name below:
Remember when you make a train journey in France you must always stamp (composter ) your ticket at the small stamping machines on the platforms, before you get on the train. This validates your ticket and prints the date of travel, if this is not done you are effectively travelling with an invalid ticket if caught you will be fined. If you have printed off an 'E-ticket' you cannot do this because of the style of the ticket but don't panic as you are ok to travel with this.
Searching for a hotel in Paris?
'Lowest price guaranteed'
We have linked up with Europe's premier hotel site Booking.com to ensure you get the best possible deal for your hotel in Paris. They offer very competitive prices over a wide range of hotels to suit all pockets Their secure online booking system is backed-up with their 'best price guarantee' - just type in your dates in the search box above or click on the place name on the right.
Staying in Paris during your trip to France?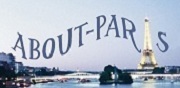 Then check out: