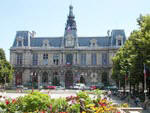 Although Poitiers is the capital of the nearby departmént of Vienne and not actually in the Loire Valley it is worth a visit as it is easily accessible off the A10. Driving from the north into Poitiers, you get little of the feel for the city as you pass by its commercial district. Once you wind your way up the hill to the old city it's only then that some of its charm is revealed. Along with its rich, long and influential history the city has evolved into a modern industrial centre that retains much of its medieval flair.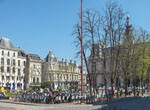 As you take lunch in one of the many café/ restaurants that surround the Place du Marechal-Leclerc you sense the feeling of a young city, with a lively outdoor culture perpetuated by its large student population.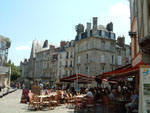 Place Charles-de-Gaulle is another area of communal life in the city with its daily bustling clothes and food market (Mon.-Sat.7am-6pm and Sun.7.30am-1pm)
The city's museum, Musee Ste-Croix has a mix of glass, pottery, sculptures as well as a good Gallo-Roman section and an interesting collection of agricultural implements!.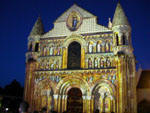 The city has 80 registered and protected historic monuments with some more prestigious than others.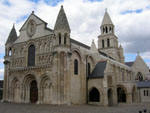 The church of Notre-Dame-la-Grande is worth a visit both during the day and to view the light show in the evening.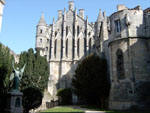 There is also the Cathédrale St Pierre with its 18th century organ its most striking feature.
If driving into the city find your way to the multi-storey car park on the Rue Carnot which is sign-posted once you enter the city centre. This will give you a good starting point from which to explore the city.