From Terminal 1 or 3 you'll need to make your way to the CDG VAL (Véhicule Automatique Léger) shuttle train over to Terminal 2.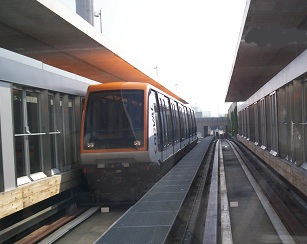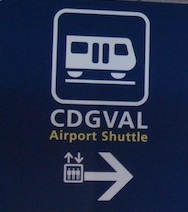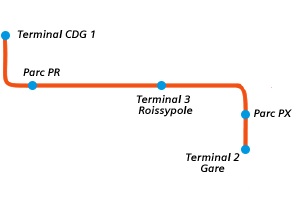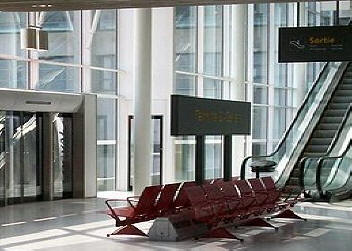 As you can see from the above route the shuttle goes from terminal 1 to 3 to 2 ,with car-park stops in between ,so don't panic as you approach 3 -stay on! At terminal 2 you'll arrive very close to the train station. Then follow instructions as above,

By following the signs you will arrive at the station area on level 4,here you should find the Sheraton hotel (see plan below) - if you do you'll know you are in the right place! There is also a bank on this level so its a good place to get some euros plus it will also give you a chance to check out you credit card as in France you normally need a 'smart chip enabled' credit card for purchases.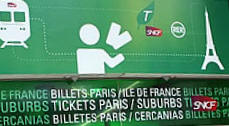 Descend to Level 2 where you will find the ticket office for the station. The office is split into two sides, one side for tickets for Paris trains (RER B) and the other side for intercity Grandes Lignes trains tickets, which includes TGV trains to the Loire valley. You can pick up your 'internet bought' tickets,here.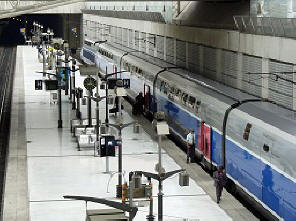 The automated ticket machines here can be used to collect your TGV tickets that you purchased on the internet - but you must use a 'smart chip enabled' card - and it must be the card you used to purchase them originally!
If you have not already bought your tickets you can do so at the counter in the ticket office or the numerous automated machines to in the train station. However, many do not accept US credit cards. Save yourself the frustration of fighting with the machines and buy a ticket at the counter.
Once you have your tickets you then descend to Level 1 - remember the station is split into two distinct sides, one for RER suburban trains (for Paris city centre), the other, the one you want, is for the TGV high speed intercity trains, which travel to destinations in the Loire valley.
Note: You will see signs saying 'Aeroport Charles de Gaulle 2 TGV' but this does not mean you have arrived at the TGV platforms as this is just the general name for the station.
You can travel from CDG on the TGV to these destinations which will give you access to the Loire Valley region:Centre-Val de Loire
Paris CDG to:

Time
Cost 2nd class
Tours:

(

Saint Pierre des Corps**)
1hr 42mins
42 euro
Angers
2hrs 25mins
53 euro
Les Mans*
1 hr 38mins
42 euro
Poitiers*
2 hrs 23mins
55 euro
Please note information is for guidance only - please check with the network
**Saint Pierre des Corps is just outside the city of Tours. If you are heading into Tours itself you will find a non TGV train waiting to take you there on your arrival. You can also pick up a hire car from here for onward journey to you destination.
From Tours/Saint Pierre des Corps you can reach most other major locations within the Loire Valley by train.
*Although Les Mans (north) and Poitiers (south) are not actually in Centre-Val de Loire they give you good access to this beautiful region.
Information and photographs courtesy of About Paris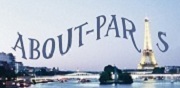 Click on your country flag for information on arriving at CDG