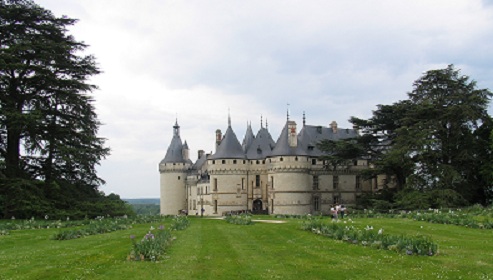 Looking for the International Garden Festival click here
| | |
| --- | --- |
| | Chateau Chaumont-sur-Loire was built on the site of a former fortress that had dominated the Loire river offering resistance to the many attacks on the Royal town of Blois using this route. Its location overlooking the town of Chaumont and the Loire made it an ideal place to build a chateau for more peaceful times. |
Work was begun by Charles d' Amboise in 1466, and continued by many owners over the centuries. After the death of Henry II in 1559 it was bought by his wife Catherine de Medicis who proceeded to force Diane de Poitiers (Henry's former mistress) to give up the beautiful Chateau Chenonceau in exchange for living here. Diane added her touch and influence as did many other owners, though none more so than Prince Amadee de Broglie. He moved here with his new bride in 1875 and did much to restore its former splendour as well as remodelling the park, creating gardens in an 'English' style.

In Chaumont it is fairly easy to park (free) down by the river and then make your way through the town before making the long climb uphill, which can be a pleasure if your fit, or you can turn uphill by the entrance in the direction of Montrichard, then take the first right, through the crossroads towards the school and you'll find the car park at the entrance to the 'Garden Festival'. Stroll through the park towards the chateau -look out for the 'art' within the grounds- and onto its drawbridge before entering the inner courtyard.
---
| | |
| --- | --- |
| | You enter and view the grand salon, the billiards room and the library which present several 16th century Flemish tapestries. A spiral staircase takes one up to the guardroom above the drawbridge and then through several chambers with more tapestries in each chamber. |
| | |
| --- | --- |
| It's not the most lavishly furnished chateau of the Loire but the small chapel is a delight. | |
The chateau has only three sides as the side facing the river was removed in the 16th century apparently to improve the view and what an impressive view it is!
---
Prince Amadee de Broglie also added the remarkable stables complete with running water and electric lamps when even the grandest chateau had none.The horses must have been the best appointed residents in the Loire Valley at the time!
---
The gardens of the chateau today play host to the annual 'Festival des Jardins'. These gardens are created by different landscape architects, designers and artists around a theme, which changes every year. This brings the chateau surroundings to life with the colour and fragrances of the many plants and flowers on display.