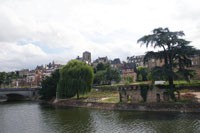 Le Mans on the river Sarthe is a city that links the north of France (Normandy) with the Loire Valley. Its location just over 70km northwest of Tours makes it ideally placed to act as a conduit between the north and the region's capital. It also has excellent transport links with the Anjou capital Angers.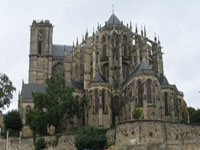 Traditionally the capital of the province of Maine, it is now the prefecture (capital) of the department of Sarthe.
Its a city that demands your attention (if only for a short time) with its immense cathedral, St Julian, striking you full-on and leaving you looking on in awe! Externally this rivals any other cathedral in France though inside is less spectacular.
Les Mans's location has meant it has been pivotal in the wars and conflicts of the area throughout history with everyone from the Romans to William the Conqueror having recognised its strategic position.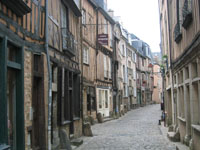 The Romans have left their mark in the form of impressive city walls that encircle what is in our opinion one of the best preserved 'Old Towns' in France. You are spoilt with dining choices and its fun just to walk these streets at night.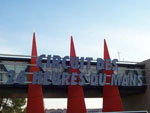 Les Mans is of course best known for its connection with motor sports and you are reminded of this throughout the city. There are actually two separate racing tracks at Le Mans, though they share certain track sections. The smaller is the Bugatti Circuit (named after Ettore Bugattie, founder of the car company bearing his name), a relatively short permanent circuit which is used for racing throughout the year.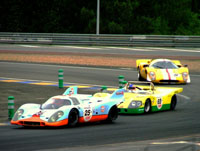 The more famous and longer Circuit de la Sarthe is made up partly of public roads, which are closed when the track is in use for racing (obviously). It has been host to the famous 24 Hour Le Mans sports car race since 1923.Boutiques and shops are set up during the race selling merchandise and promoting products for cars. The "Le Mans start" takes its name from the way racers lined up away from their cars and ran across the street and jumped into their cars to begin.