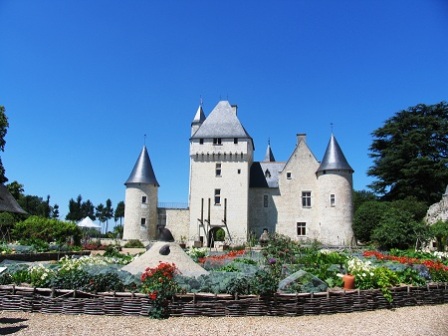 One of the 'revisits' we did last year was to the delightful Chateau du Rivau to see how its gardens were maturing ...we were not disappointed, the owners are doing a great job in turning it into a fairytale-like castle and gardens to enchant children and parents alike.
Château du Rivau may not be the first to come to mind when thinking of the great chateaux of the Loire Valley but it really is worth adding to your itinerary. Its history is intimately linked to the Beauvau family who were related to the Counts of Anjou and fought under their banner. In the 13th century the family went on to serve the kings of France and in 1454 were allied directly to the royal family through the marriage of Jean II de Bourbon to Isabeau de Beauvau. Many members of the Beauvau family have, over the centuries, given their lives for France.
In 1429, before the siege of

Orleans

, Joan of Arc and her followers came to fetch horses at

Rivau

, a place renowned for the quality of its 'war' horse breeding and training. The chateau was fortified in the mid 15th century but was modified to be the chateau you see today during the Renaissance. There is a room dedicated to 'Joan' within the castle.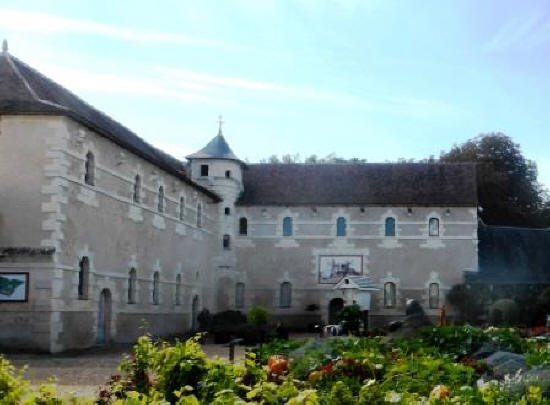 The monumental stables in the outbuildings, that supplied royal stallions were constructed in 1510 by Francois de Beauvau, a captain of Francois I. They are currently used to show a visual display of 'mystical horses.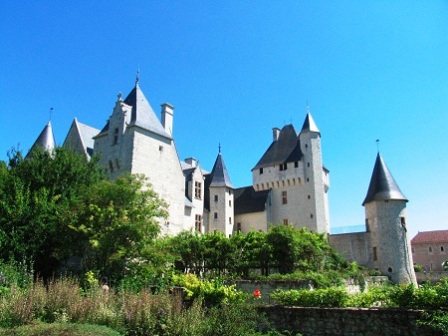 Rivau was saved in the 17th century by Richelieu as his sister Françoise was married to Jean de Beauvau, lord of Rivau, it had remained in his family for nearly 250 years before being acquired by marquis Michel-Ange de Castellane, lord of Villandry, he stayed here with his family until 1796.
Like a lot of Loire chateaux however, it went into decline until it received a ten year restoration programme, starting in 1992, to return some of its historical splendour.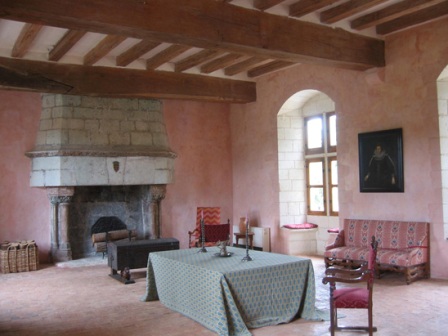 Inside the great hall, their trophy wall shows the owners have a sense of humour...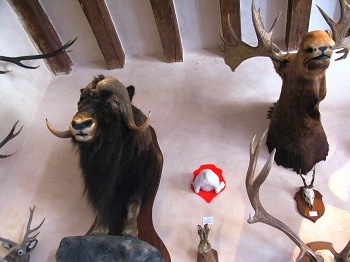 The gardens are now renowned for their light and airy "fairytale" feeling. Designed by the proprietor and modern art collector Patricia Laigneau as an historical recreation of Middle Ages gardens, you'll enjoy the contemporary art installations, including carvings and giant legs running through the trees!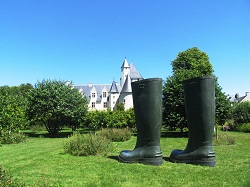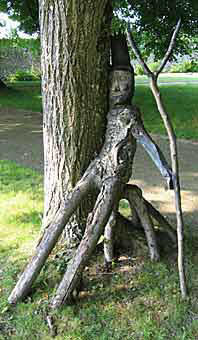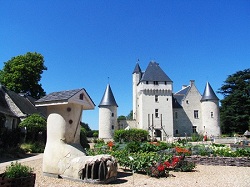 Gardens include 'The Enchanted Forrest', 'The Lover's Wood', 'The Orchard of Paradise' and 'The Secret Garden' all to explore. A few of these are still at a relatively 'young' stage as they have replaced original gardens but this does not take away from the overall feeling of the pleasure they provide. Very young children may very well come away enchanted!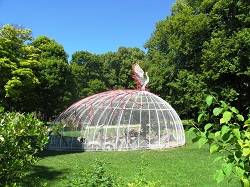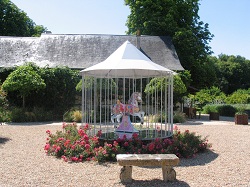 You can visit a few of the internal rooms of the chateau which although sparsely furnished give you a taste of what life may have been like back in its heyday. You can sit at a window seat and view the splendid gardens as previous occupants must surely have done in the past.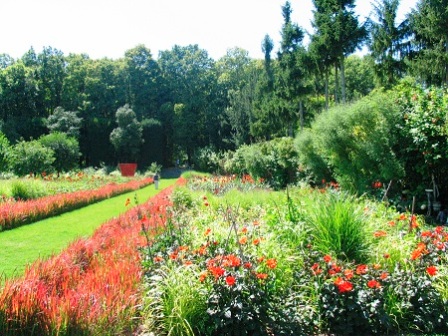 There is a programme of concerts and events including a pumpkin festival in autumn. Discounted entry for RHS members.
Castle Events:
May /June 1st join our Garden days
August Jousting tournament
September Pumpkin Feast
Tip:

This chateau should be added to your itinerary when 'doing' Chinon and / or Abbeye de Fontevraud even at the expense of chateau at Montsoreau.
Official website https://www.loire-castle-rivau.com/