Markets are part of everyday life within Centre/Val de Loire ( Loire Valley) with almost every town and village having their local marchés.
A visit here is not complete without a wander around the stalls sampling and taking in the atmosphere of French life. It is here you will come to understand part of the French psyche - for as you wait to be served you might get a little frustrated with the apparently idle chatter between the customer and stall holder - but if you stop for a moment you will realise that you can spare the time and they have got it right!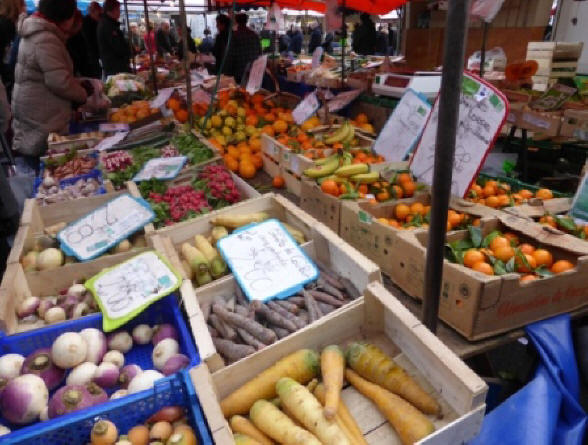 Tours flower markets
held on Wednesday and Saturday mornings on the Boulevard Bérenger are worth a visit as well as the markets in Amboise, Descartes,
Langeais
and
Loches
.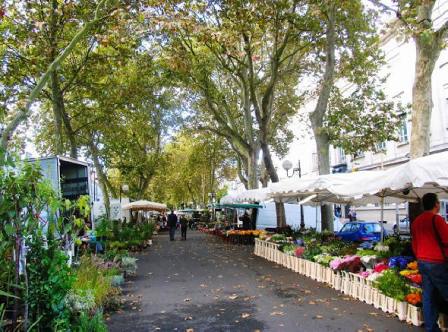 Several towns hold evening markets throughout the summer offering a delightful combination of street entertainment and music to provide an unforgettable atmosphere.
Some of the more popular markets in Centre - Val de Loire
List of weekly markets
Sunday

Angers, Montsoreau, Saumur, Blois, Amboise, Montrichard, Chinon, Descartes, Langeais, Orleans and Tours

Monday

Baugé, Candé, Doue-la-Fontaine, and Blois

Tuesday

Angers, Cheverny, Bléré, Bourgueil,

L'Île-Bouchard

Montbazon, Orleans and Tours

Wednesday

Angers, Fonteuraud l'Abbaye, Saumur, Blois, Romorantin-Lanthenay, Loches, Montbazon, Orleans and Tours

Thursday

Angers, Saumur, Blois, Bracieux, Chinon, Cormery, Montlouis-sur-Loire,Montbazon, Orleans and Tours and Tours

Friday

Angers, Saumur, Montrichard, Amboise, Bléré, Montbazon, Ste-Maure-de-Touraine, Tours Montbazon, Orleans,Tours and Vouvray

Saturday

Saumur, Blois, Bourgueil, Chinon, Loches, Luynes, Montréser, Saint-Aignan Montbazon, Orleans and Tours
"Author: Jim Craig"