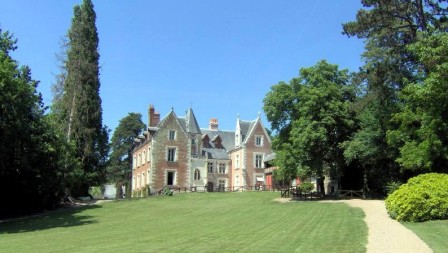 You cannot visit the town of Amboise and its impressive chateau without also visiting Clos-luce, where you will learn, in a well presented indoor and outdoor exhibition, off the last years of Leonardo de Vinci (1516-1519) surprisingly spent here in the Loire Valley.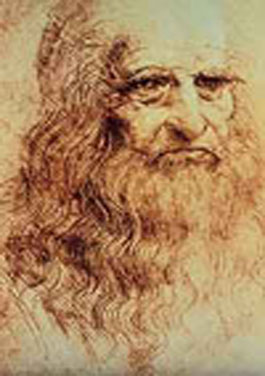 Shortly after his patron Giuliano died in 1516, Leonardo had been enticed here by the arts loving Francois I with the promise of a pension and comfortable residence. Few demands were put on him other than to be available for intellectual conversation, otherwise he was "free to think, dream and work". Leonardo had crossed the Alps on a mule carrying with him some of his precious artwork including the Mona Lisa – which explains why it hangs in Paris and not Rome.
"Art is never finished, only abandoned." Leonardo de Vinci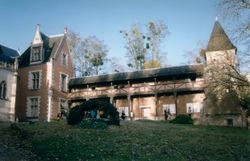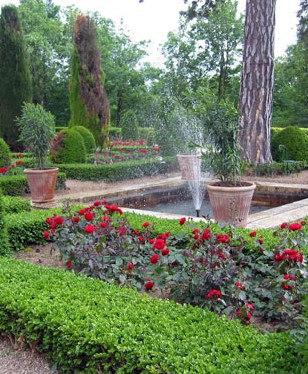 The site of the manor house dates back to the 12th century when it was surrounded by fortifications of which only the watchtower remains. The house as it is today, a good example of Renaissance art using both brick and the local tufa stone, was built in the late 1400's and had various owners before Charles VIII bought it and turned it into a royal residence, perhaps for his and future king's mistresses.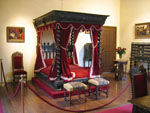 After being saved from the Revolution by the Amboise family it went through a period of stability where its only enemies were the passing years. Major restoration works started in the 1960's to return it to the condition it would have been in during Leonardo's time there, returning the interior to its Renaissance style.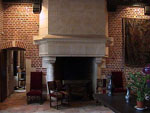 Now you can catch a glimpse of the private life of this illustrious man as you visit his bedroom, his kitchen and his study, as well as the small chapel displaying frescoes by his disciples. Its extraordinary to think that this was probably Leonardo's only real home during his lifetime - even if it was only to be for a few short years.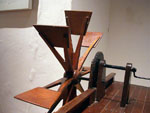 The underground rooms hold a display of models and artefacts bestowing the genius of the great man. Even without flashing lights the children should be distracted enough for you to stand in awe as you think you are standing in the house where Leonardo spent his last moments, though unfortunately they cant get their hands on anything.
An interactive area would be a good idea.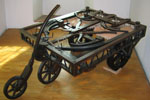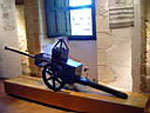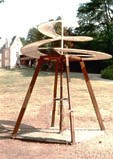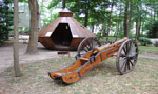 This is also carried on out into the gardens where life-sized models have been created. It is fitting that the grounds are used as a practical museum to the great thinker as it was by observing nature that many of his ideas came.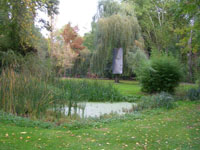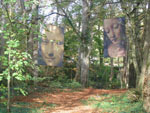 The gardens themselves have a rich display of attractions.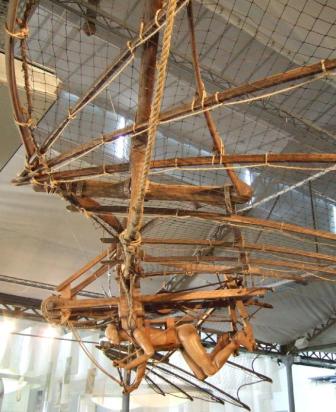 There is also an audio-visual hall within them showing his work and history on a large screen and displays --with commentary giving an insight into his imaginative world.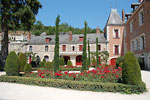 Also within the grounds there is a playground for the kids plus picnic areas if you don't wish to use the eating options on site.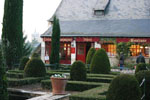 You get to the house by proceeding down Rue Victor-Hugo from the chateau and past some troglodyte homes for about 400mtrs.There are different options for eating at the house or you can wander back to the many fine restaurants in town.
| | | |
| --- | --- | --- |
| Rates 2013 | Adults | Children |
| High season 1st March to 15th Nov. | € 13.50 | € 8.70 |
| Low season 16th Nov. to 28thFeb. | €11.20 | € 7.70 |
Its a bit pricey but they do offer family tickets and concessions, check out their very good official site - link below:
http://www.closluce.com/ Official website
finding-leonardo-da-vinci Very informative blogpost
parc-leonardo-da-vinci Very good blogpost on the gardens