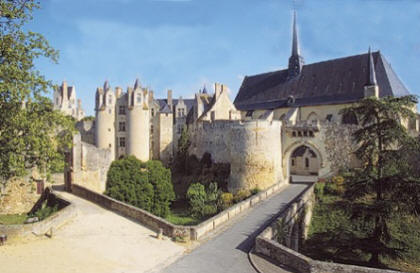 Chateau Montreuil-Bellay overlooking the river Thouet, can be found ten miles south of Saumur. There have fortifications on this site from the 11th century. The current chateaux is much younger than this, its fortified gateway leads to a 15th century house. which you can visit, with the ancient wine cellars the highlight.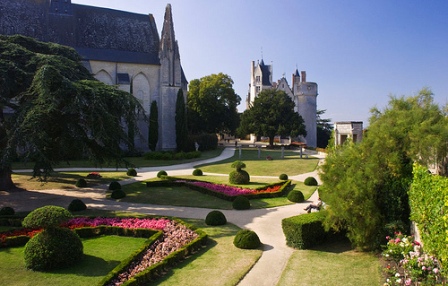 The chateau has lovely gardens overlooking the river and because of its lofty position it offers some great views.
There is a good choice of restaurants by the chateau and the river. You will also find by the river "Promenade J.R.R.Tolkien" which has given rise to the stories (untrue) of Montreuil-Bellay once being a holiday home of the writer and the chateau and its surroundings being inspirational in forming some of his literal locations.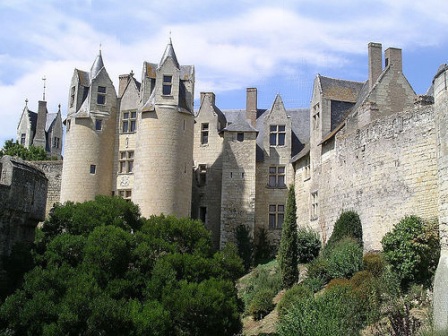 The town of Montreuil-Bellay retains almost all of its medieval walls, making it one of the last fortified towns of the Anjou region. It is well worth a visit as it still retains its medieval feel. Its strategic location on the borders of Anjou, Touraine and Poitou allowed the town to grow and have an important regional administrative function (subsequently transferred to Saumur) before the French Revolution, this accounts for the number of fine houses in the town.
During the French Revolution the castle was seized by the revolutionary government and used as a prison for women suspected of being royalists. In 1860 the daughter of Saumur businessman Adrien Niveleau, (who had bought it in 1822) undertook occupancy and set about a major restoration campaign, redoing some of the rooms in the Troubadour style. Descendants of her husband's nephew are the current owners of the property.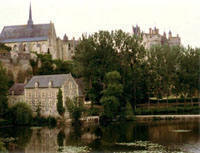 It was also used as a military hospital during the First World War.

The town has on open-air swimming pool open during May-September.

Château Montreuil-Bellay is also the name of fine wines of the area produced from vines within the chateau grounds. The grapes, apparently harvested and sorted by hand, are made into wine in the fifteenth-century wine cellars.
External links:
Official website
Ba
ck to top.
https://www.chateau-de-montreuil-bellay.fr
Directions and time to Montreuil-Bellay