Chateau de Lude the most northerly of the great Loire Valley chateaux, can be found in the small town of Le Lude in the department of Sarthe within the region of Pays de Loire in France. Its almost humble entrance squeezed between the narrow streets of the town belies its splendour. Once you walk through its arched portal you are met by a building that is a fabulous example of the evolution of French architecture. Here you have the result of the origins of a medieval fortress (10th/11th century) being embellished over the years.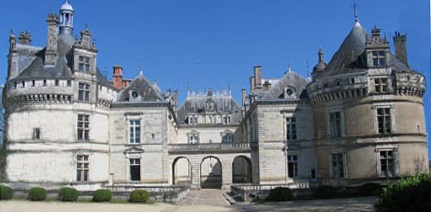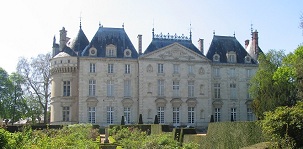 On our visit we were two of only four visitors to take the compulsory guided tour (we were joined by a charming couple, English lady with Welsh husband, very international). The tour was conducted by a very pleasant and accommodating French guide with a sense of humour. It takes you through only part of this great chateau as it is still the family home of Count and Countess Louis-Jean de Nicolay, (whose family have owned it for over 250 years), who carry on its restoration. It is one of the better chateau tours as it takes you through some of the rooms still used today and you get its true 'lived-in' feel. The old kitchens are a delight - you are not allowed to take photographs inside but the video opposite will give you a taste of what it is like -splendid! Check out the interesting video on the left also.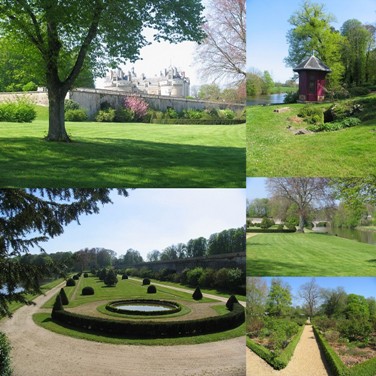 While waiting for the timed *tour to start we wandered around the delightful grounds and park of the chateau which are laid out along the Loir river (without the 'e'). The part of the gardens on the riverbank apparently used to be a vegetable garden, transformed in the 19th century (like much of the chateau itself) into a garden in the French style.

Further along the river there is a small perennial garden surrounding a surprising, Chinese inspired, gazebo. There is also a small formal rose garden in front of the Louis XVI facade of the chateau plus a walled garden that only opens at certain times of the year, such as the chateau's garden festival in June.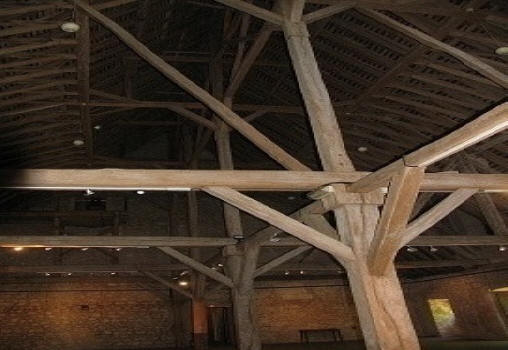 As you walk back to the chateau past the walled garden it is worth climbing the stairs in the corner of the grain store to catch a glimpse of the wonderful craftsmanship displayed under its roof.
Practical information - chateau and grounds:
Chateau du Lude is open daily from April 1st until September 30th, except Wednesdays in April May, June (1st &15th) and September.
The grounds are open 10am - 12.30 pm and 2pm - 6pm. The chateau interior is open afternoon only with guided tours 2.30pm - 6.30pm.
Getting there:
Chateau du Lude can be found south of Le Mans 10 miles west of the A28 autoroute exit 26.
External links:
http://www.lelude.com Website of Chateau du Lude.
http://baguette.over-blog. Good blogpost on chateau.