The Futuroscope amusement park10 km north of Poitiers.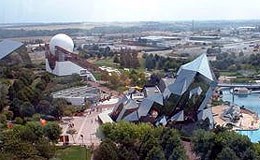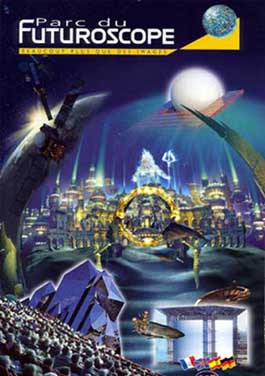 The park with its 3 million visitors a year has enjoyed spectacular success since its creation in 1987. Devoted to image, audiovisual techniques and special effects it is a great day out for all the family. With its futuristic architecture Futuroscope is a theme park with a difference, you can see 3D films on the giant ,flat, circular or spherical screens: Dynamic cinema, new video techniques and virtual pictures....
---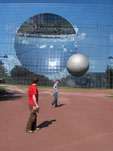 See Kinemax films on a seven stories high screen, or a 360 į film ...or the famous Magic carpet with huge screen under your feet...Dive at the speed of light into the city of Atlantis in the "Race for Atlantis ...you are in the heart of the action and you'll feel part of the experience.
The attractions include, 'Magic Carpet', 'Adrenaline Rush', 'The Race for Atlantis' and 'Space Station', which allow you to experience breathtakingly realistic sensations of flying, falling, underwater exploration and space travel. The spectacular laser show at dusk adds the finishing touch to a great day out.
---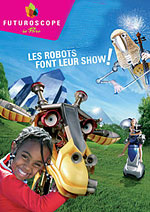 There are three major attractions giving robots star billing at Futuroscope: Le Zoo des Robots (The Robot Zoo), a fun, interactive attraction for all the family to enjoy, La ForÍt des RÍves (The Forest of Dreams), the spectacular new evening show, and Danse avec les Robots (Dances with Robots), a staggering ride that combines state-of-the-art technology and artistic skill.
There is also a fantastic new ride - Arthur and the Minimoys. This is based on the hit film created by Luc Besson, who has also designed the ride. In not 3 but 4D, you not only see, you also feel the whole experience! Visitors travel through the attraction in a 25-seater carriage that mimics the flight of the ladybuggies, the insect-shaped vehicles in the Minimoy world.
The park opens from daily.
Parc du Futuroscope
Jaunay-Clan, Poitiers 86130
External Links:
Blog-roll: