Things to with kids in Amboise,Loire Valley
Around the popular Loire Valley town of Amboise you will find much to keep your children amused, before deciding on which of the chateaux may be child friendly you can check them out in miniature at Mini-Chateau Land and let them decide for themselves. Older children will enjoy Leonardo's inventions in and around Chateau Clos-Luce and the activities within Fantasy Forest.
Click on image or name for more details
Rentals
Choose a village house to rent in the Loire Valley direct from the owners.

Sleeps up to 4

Sleeps up to 6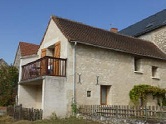 Sleeps 2

Sleeps up to 6

Sleeps 2