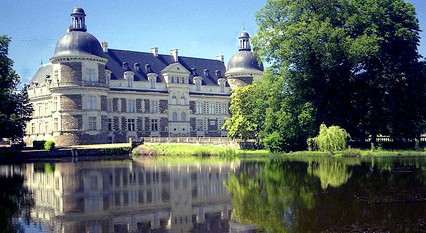 Chateau de Serrant has a character which externally is formed by the use, as at the chateau of Angers, of both the local dark schist and white tufa. The difference here is that you have less of fortress and more of a grand mansion.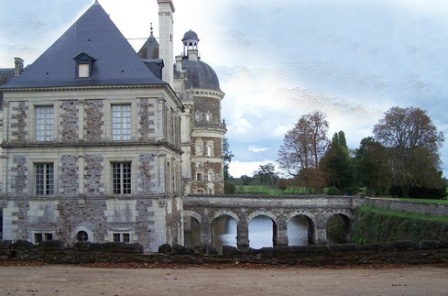 Built over three different centuries the Chateau de Serrant has somehow managed to keep a unified look - and stood the test of time -a credit to its creators and builders.
Charles de Brie was responsible for it's conception aided by the drawings of Philibert Delorme who also has Fontainbleau to his credit. Whichever view you take in of this lovely chateau you will not be disappointed.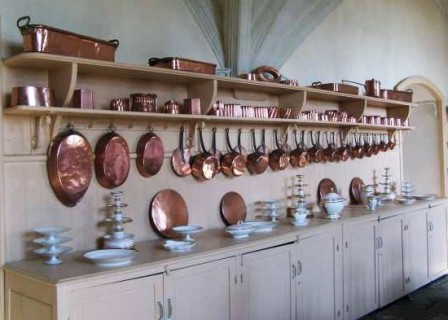 The chateau has beautiful cellars that have been redesigned as kitchens and medieval halls. You can take a tour of these with the rest of the of the chateau and view it's sumptuously furnished apartments displaying the usual array of tapestries and works of art that befits such a noble residence.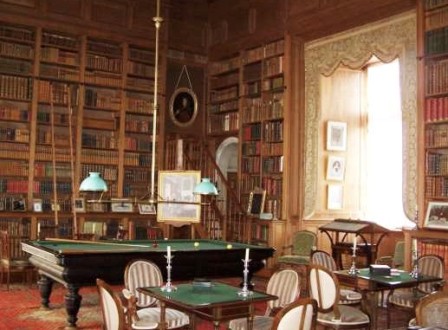 The staircase is a fine example of Renaissance design and you will be equally impressed by this and first floor ceilings as well as it's fine library - apparently housing over 12,000 volumes! You can also visit the Emperor Napoléon's bedroom though he never actually slept in it! He did visit for a couple of hours however.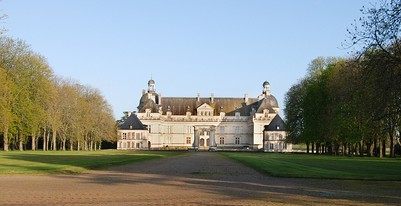 Today the chateau de Serrant is the private residence of Prince and Princess de Merode-Waterloo (must be bit of history behind that name!) who are descendants of the la Tromoille family who had brought their own history to the place through the marriage of the duke of Tromoille to Valentine Walsh in 1830. No not French -- The Walsh family (from Ireland) who had taken self-imposed exile to France due to their support for the dethroned Stuarts of Scotland had bought the chateau in 1749.. A number of stories exist that he was given it as reward for his support of the king against the English and for providing the ship for Bonnie Prince Charlie to return to Scotland for the 1745 uprising.
It was the Walsh dynasty that created the English style gardens and it is their crest you see on the chateau gates.
Opening times :
16 March to 30 June 2013 and 2 September to 11 November 2013
From Wednesday to Sunday: 1:30pm to 5:15 pm
Sundays and French Bank Holidays: 9:45 to 11:30 (guided tour at 10:30 & 11:30 am )
High Season: 1 July to 1 September 2013
Open every day 9:45 am to 5:15 pm
English Guided Tour at 10:30 a.m. - 15th July to 18th August Only
En
trance fee:
Adults: € 10.00
Children (under 18) + students: € 6.70
Family rate: € 32,00 (2 adults and 2 children and more over 15)
Children under 7 years old: free entry
External links:
Official website of the chateau.