Pontlevoy , which you will find 25km east of Amboise is a village which prospered due to the presence of its Abbey and campus but it has now fallen under the 'sleepy village' spell with not a lot happening other than the odd tourists looking to take in a piece of the abbey's history.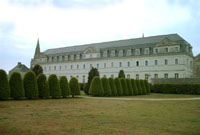 The campus now plays host to the European-American Centre for International Education www.euramcenter.com a private concern offering a unique education experience.
The Abbey's origins date back to the 11th century when apparently as the fulfilment of a vow to the Virgin Mary for saving his ship at sea, Gueldin de Chaumont a returning Crusader provided the founds for the building of a Benedictine Abbey which would form the basis of prosperous order of the monks. It has, like many buildings in France throughout its history, been affected by religious instability and wars. In the 13th century it was ravaged by fire which led to the loss of what was at the time one of the largest ecclesiastical libraries in the whole of France.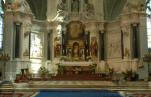 Restoration of the chapel was begun at the end of After 'The Hundred Years War' but was not completed due to lack of funds. It wasn't until into the 17th century under the instructions and patronage of Cardinal Richelieu that it was returned to its position as a great religious and learning centre. This was when the grand central building was added giving the regimental look of the military academy it was to become.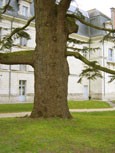 In 1776 by the order of Louis XVI - the large cedar of Lebanon in the courtyard was apparently planted in honour of his accession to the throne. The buildings managed to survive the French Revolution and The Great Wars building a strong reputation as an academy up until 1973 when it closed.
Its current activity as an "International School of Thought" began in 2002 when it passed into private hands. In its new capacity it provides programmes for study abroad as well as catering for conferences and weddings.
The campus also houses the Municipal Museum which has rooms dedicated to one of the village's ifamous sons - Auguste Poulain - the chocolate maker of distinction . It consists mainly of his advertising cards which at the time were equivalent to and as collectable as the soccer cards of today. There are other rooms displaying some of the photograph collection of Louis Clergeau, a local watchmaker, and his daughter that were taken between 1902 and 1963 --over 10,000 -- displaying life in the village. A truly unique window to its history
The village has a small market on Thursday mornings.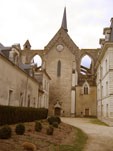 It also sponsors an annual classical music festival on Saturdays during the months of July and August which is performed within the Abbey.