---
2016
THE 25TH EDITION OF CHAUMONT

INTERNATIONAL

GARDEN

FESTIVAL
The festival gardens are open between April 21st and November 2nd.
The theme for the festival, is
'GARDENS OF THE CENTURY AHEAD'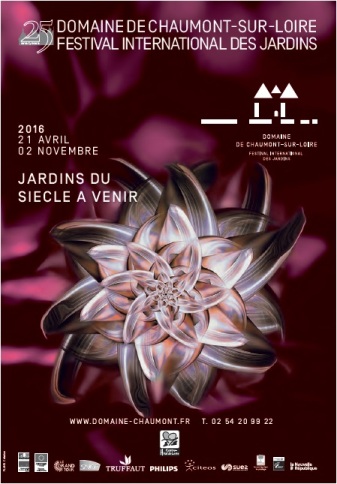 Check out our blog-post on the festival here
---
29/04/2016 - 08/05/2016 ORLEANS (45)

This year's festival will be held from Wednesday, April 29 to Sunday, May 10
Fêtes de Jeanne d'Arc, Ile Charlemagne and sites within the city : commemoration of the liberation of Orleans by Joan of Arc, with festival and medieval market, concerts, sounds and lights, parties, fashion shows.
---
---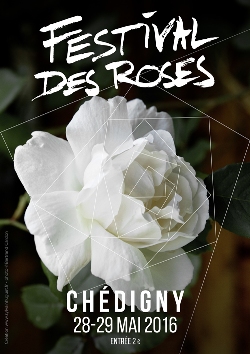 On the 28th and 29th of May 2016, The Roses Association of Chédigny celebrate the
'Festival of Roses'.
10.00am - 7.00pm
---
Exhibition at Chateau Villandry
'An English artist and the Châteaux of the Loire'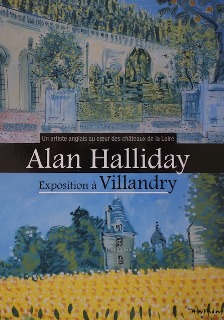 http://www.chateauvillandry.fr/en/project/1-march-to-30-may-un-artiste-anglais-au-coeur-des-chateaux-de-la-loire/
---
Vouvray wine fair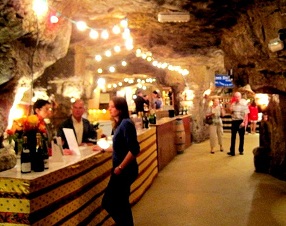 Vouvray Wine Fair (Foire aux vins)
Discover the wines of Vouvray presented by a variety of local winemakers in the heart of the troglodyte caves 'de la Bonne Dame' a great experience – try not to be the nominated driver!.
Visitors can also enjoy gourmet specialties to accompany the wines.
Free entry. Tasting glass is € 3.00 on site. 10 am -7 pm
Location: Vouvray - Caves de la Bonne Dame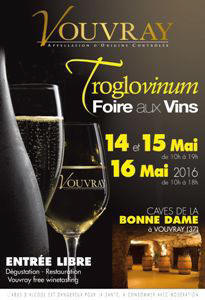 Official website
http://www.vins-vouvray.com/evenements-vouvray.php
---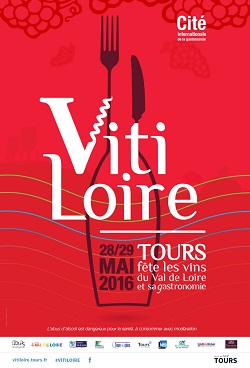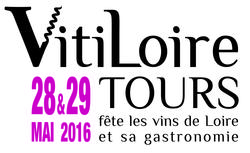 Vitiloire, Tours celebrates wines of the Loire Valley May 28th and 29th 2016
Saturday from 10h to 19h - Sunday from 10h to 18h
place de la Gare - Boulevard Heurteloup - Garden Prefecture

On the occasion of Vitiloire , Tours, in the heart of one of the great wine regions, welcomes nearly 150 winemakers for the weekend.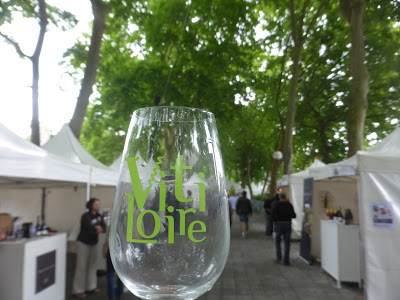 It's right in the city centre, on the Boulevard Heurteloup , Station Square and in the garden of the Prefecture, the public is invited to discover the diversity and richness of the Loire wines represented by 70 AOC.

There is also a market and gourmet village dedicated to the gastronomy of Touraine where you can taste the famous goat's cheese of Sainte-Maure, rillettes, Foie gras and even local beers.
Whether you are experts or amateurs, come and relax, share, discuss, enjoy our wines - Saturday, 28th and Sunday 29th May.
Check out our blog-post on last year's event here
---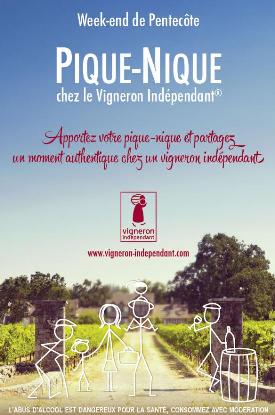 The 6th edition of Picnic in the Vigneron Independent will be heldfrom 14 to 16 May 2016.

The principle is simple, bring your picnic and your family, friends, and the winemaker welcomes you in its field in a space built for the occasion with tables, chairs and umbrella - share his knowledge, passion, history. the Val winemakers Loire await you in their field!
http://www.vinsvaldeloire.fr/SiteGP/FR
---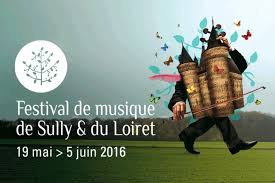 The Music Festival De Sully & Du Loiret originated way back in 1973 as a musical event held within the delightful chateau of Sully-sur-Loire. It has now grown to become a 'departmental' (Loiret) event with classical and jazz concerts also being held in Orleans, Beaugency, Montargis, Olivet and Ferrières-en-Gâtinais.
You can see the full programme here:
---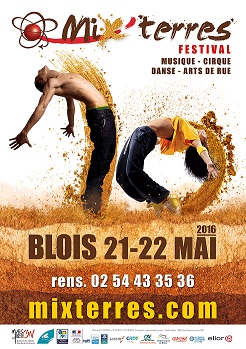 The 'Mix'Terres' festival over the weekend 21st / 22d May in Blois promises much ....
read more here
---
Marché du Chineur - Loches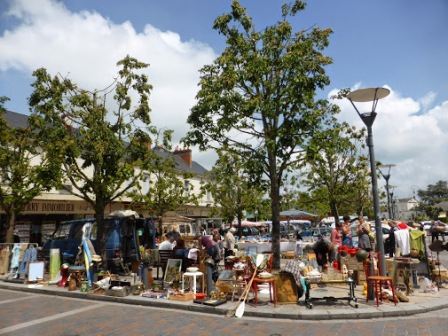 Sunday 15th May
---

---
---
In the 'Grange des Protestants' of Chateau du Chatelier, Le Chatelier (6km Le Grand Pressigny)
Friday 2nd May 2014 8:30 p.m. € 12.00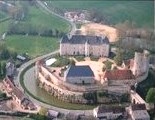 The vocal and instrumental ensemble of Loches, formed in October 2009, led by Françoise Perchat-Vinitzki, Lochoise and singing teacher and pianist.
This ensemble today unites 25 singers and four musicians from around the Lochois, all amateurs, motivated by the desire to sing, play and share their passion for music, lesamisduchatelier.jimdo.com
---
---
09/05/2013 – 12/05/2013 SEGRY (36)
Abbaye de La Prée à Ségry: rencontres musicales autour de La Prée(www.pourquelespritvive.org), share a moment of pure emotion under exceptional at the Abbay de La Prée. Every year at the Ascension, concerts of chamber music animate this wonderfully preserved Cistercian building, surrounded by nature.
10/05/2013 – 12/05/2013 CINQ-MARS-LA-PILE (37)
Les Moments Musicaux de Touraine à l'Eglise de Cinq-Mars-la-Pile : festival of baroque, romantic and twentieth centuries music.
12/05/2013 – 13/05/2013 SASNIERES (41)
(www.jardin-plessis-sasnieres.fr) Jardin de Sasnières : discover the garden Plessis Sasnières in the presence of twenty exhibitors, who come to present their products.
15/05/2013 – 15/01/2014 CHATEAUDUN (28)
Exposition-Mille-milliards-d-insectes Insect exhibition at the Museum of Beaux arts et d'histoire naturelle di Châteaudun.
15/05/2013 – 15/09/2013 TOURS (37)
Tours sur Loire : on the banks of the Loire (at the foot of the bridge Wilson) dance hall on the banks of the Loire, cinema, shows, concerts … Comprehensive program into www.tours.fr
17/05/2013 – 18/05/2013 LA RICHE (37)
Les Journées de la rose (www.prieure-ronsard.fr) Demeure de Ronsard : exhibition-sale of roses and products, workshops, poetic paths.
17/05/2013 – 19/05/2013 CHATEAUROUX (36)
Festival de la Voix (www.cepravoi.fr) The Festival of the Voice gives to all the curious the opportunity to recharge outside the beaten track from the culture. An atypical event where each can initiate singing, enjoy concerts and new sensations that this fascinating festival procure.
17/05/2013 – 19/05/2013 CHASSIGNOLLES (36)
Festival Pentecôte en Berry: under of Cyril Huvé artistic direction, the festival brings together the public around a group of international soloists. Chamber music concerts and conferences are planned and take place in a prestigious place Varennes Abbaye and the Château of Lande.
18/05/2013 – 19/05/2013 VILLAINES-LES-ROCHERS (37)
Journées découverte de la pèlerie d'osier (www.vannerie.com) Days of the discovery of the craft and culture of wicker. Wicker Cooperative: preparation, processing, laboratories initiation, implementation.
20/05/2013 LIGNIERES (18)
Foire aux Ânes (www.thiaulins.com/plaix_fr/foire/foire.htm) Unusual, playful and lively, this exhibition of donkeys and mules once again the tradition of early '900.
24/05/2013 – 26/05/2013 TOURS (37)
Concours International de Chant Choral (www.florilegevocal.com ) Grand Théâtre de Tours: an international competition of choral singing, the only organized in France. The last day the choirs of adults, youth and children in a dozen nationaties offer a concert in the place de la Résistance in Tours.
25/05/2013 – 26/05/2013 ORCHAISE (41)
Journées de la rose (http://prieure.orchaise.free.fr) Prieuré d'Orchaise : exhibition-sale of roses, each variety far the flowery paths of the botanical garden of the priory of Orchaise. Also: tips (maintenance, cutting, planting) and visits the park with gardener
25/05/2013 – 26/05/2013 TOURS (37)
Vitiloire (www.toursfetelesvins.fr), the great feast of wines of the Loire, with convivial tasting and cooking demonstrations. In the center, along boulevard Heurteloup, place de la gare and gardens of the prefecture, the public is invited to discover the diversity and the richness of the wines of the Loire, consisting of 70 AOC.
24/11/2012 – 26/05/2013 TOURS (37)
Château de Tours (www.jeudepaume.org/index.php) Lartigue, l'émerveillé (1894-1986): an exhibition of more than 100 Lartigue's photographs.
27/05/2013 – 02/06/2013 BALLAN-MIRE (37)
Festival Les Musicales. Manifestation site: Ballan-Miré, Berthenay, Druye, Savonnières and Villandry : a week dedicated to music.
31/05/2013 – 02/06/2013 JOUE-LES-TOURS (37)
01/01/2013 – 31/12/2013 VALENCAY (36)
The Valençay and Pays de Bazelle CIVAM organise the agricultural markets and craft. A winter market (a Saturday in December) and four summer (four Sundays in July and August).
30/03/2013 – 15/09/2013 CHAMBORD (41)
Marchés du terroir à Chambord : more than 50 dates to meet the producers of the association Bienvenue à la Ferme in the Place Saint-Louis.
24/04/2013 – 20/10/2013 CHAUMONT-SUR-LOIRE (41)
(www.domaine-chaumont.fr) Festival International des Jardins. Theme 2013 : « Jardin des sensations ».
27/04/2013 – 29/09/2013 MAISONNAIS (18)
(www.prieuredorsan.com ) Les Jardins du Prieuré Notre Dame d'Orsan (Parcs et jardins).
28/04/2013 – 25/08/2013 ORLEANS (45)
Spectacul'air, le Parc Floral pour les plus jeunes, to spend a Sunday afternoon with the family at the Parc Floral: a show for children on the last Sunday of each month between April and September. outdoor performances at 15.30.
30/03/2013 – 30/09/2013 Every evening, except the 21/06 and the 13/07, 22h (22h30 in June and July). BLOIS (41)
Nocturne show: a special sound effects and huge projection festival in the Blois Château Royal court. English performance on Wednesday.
31/05/2013 – 01/06/2013 MEUNG-SUR-LOIRE (45)
Festicolor 2013 « Le Festival de toutes les Musiques » ! Centre de Loisirs.